Lesní Divadlo, Czech Rep. 1. 8. 2015
Last winter I was talking with my friend about having to trip to Prague in Eastern. Unfortunately my friend had to cancel his trip for some reasons, but I had an idea for this forcoming trip still on my mind.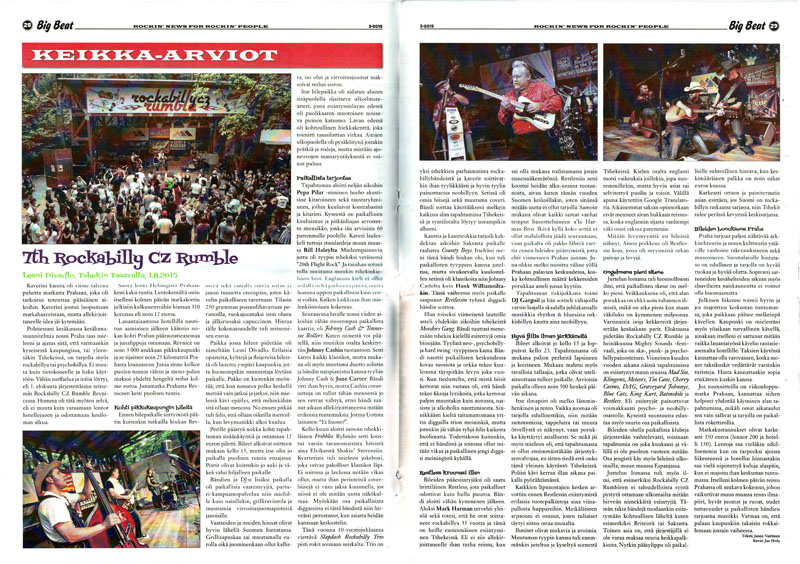 Lesní Divadlo, Czech Rep. 1. 8. 2015
Last winter I was talking with my friend about having to trip to Prague in Eastern. Unfortunately my friend had to cancel his trip for some reasons, but I had an idea for this forcoming trip still on my mind.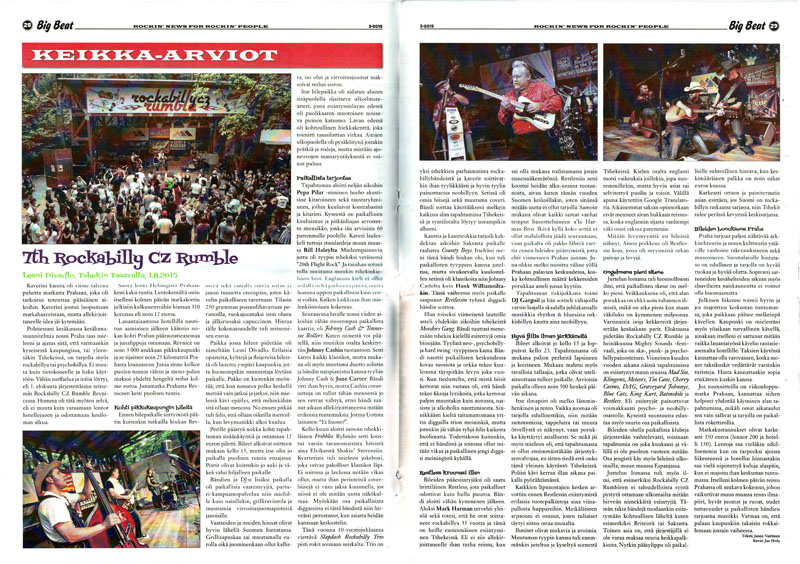 When I was wondering what to do in summer vacation, somewhere I got that idea about Prague and that there must be some kind of rocka- and psychobilly scene in Czech Rep. I turned on my computer and opened Google which I typed czech rockabilly. Then I found Rockabilly CZ website and also Rockabilly Rumble which will be held in Revnice 1st of August. That's it and I decided to book flights and accomodation and I started to wait for my summer vacation.
Direct flight from Helsinki to Prague took about 2 hours. From the airport I bought myself 3-day ticket for public transportation. That cost me 310 CZK (about 12 €). On a Saturday morning after having the breakfast I headed to the main railway station for buying some tickets to Revnice. Revnice is a little town (3000 habitants) and it is located about 25 km from Prague to the southwest. Two-way ticket cost for one person about 3€ and the journey lasted about half an hour.
Heading to the little town's Rumble
I decided to look around in Revnice before going to party and eat/drink something in local taverna. I walked in to Restaurace Republika and ordered 250 g porkmeat with potatoes. With that food I took a large bear and for the dessert I chose a cappucino. This all cost me about 7€.
The party was held the place called Lesní Divadlo. Different kind of posters and signs were hanged all around the town. I have to admit when the rising path in the middle of the forest seemed to never ends I had thoughts where in the hell I was going for. After a little while I heard some music and I saw some kind of building ahead. Maybe this was the right place.
I walked in from the gate and I bought a 12€ ticket. The party was started about 3PM but I was there 30 minutes before. I noticed that some other people were also coming inside the area.
With bands and DJ there were also available clothes/accessories sellers, barber services for males and females, food restaurant and some places where to buy drinks.
Prices of the clothes and accessories were quite same than in Finland. Grillfood cost a couple of euros and beer/ soft dronks were cheap (about one euro). The party was held a place which was like a wooden amphitheatre surrounded by the fence. In front of the stage was a little sand area for dancing. Outside of the place were parked some hotrods and bikes.
Mainly local bands
The party began at 4 PM and first performer was guy called Pepa Pilar. He was singing and playing acoustic guitar with his background team, which included a double bassist and a guitarist. This guy is a local celebrity and respected a long term musician, whose age I would estimate better size of the 60 years. The guy was singing well known standards, including songs of the Bill Haley. The most memorable thing was when the guy performed "20th Flight Rock" in Czech. And there were also a few more Czech-language songs in his set. This guy's English was not the best, but his show sank to local rockabillies like a knife through the butter. All in all, quite an interesting experience.
The next band started at 5 PM and they were local younger guys, aka Johnny Cash & Tennessee Rollers. As the name suggests, their music focused on Johnny Cash's production. The set included all the classics, but there were also a few duets with the soloist and the band's female pianist in the style of Johnny Cash & June Carter. The band performed just fine, but because I have already seen Cash's cover bands so far so much that band couldn't affect any special sensations for me. But shortly: "Not bad!".
At 6 PM began Czech band called Fribbles. This group's set consisted of very ordinary standard hits from Elvis to Shakin 'Stevens. Quartet came to my mind jukebox, which cranks mandatory classics rock'n'roll sonngs through. There were no problem with playing and singing, but I'm too tired to listen those classic cover, if there are nothing new perspective to put into songs. When I was talking at the sametime with local rockabillies they neither like this band so much.
Slapdash Rockabilly celebrates this year their 10th anniversary and they started their show at 7PM. Trio is one of the best rockabilly bands in Czech Republic and these guys played pretty stylish and very well, mostly in neobilly. The band's set included their own songs and a cover songs. If I understood right, the band is playing almost every rockabilly events in the Czech Republic and they have also published a few albums.
Country music and country rock were available at 8PM by County Boys from Germany. Myself, this band went a little bit over, because I was interviewing local rockabilly guys, but my ears caught classics songs from Johnny Cash as like Hank Williams. At this time, also Restless was arrived at the party and they were also watching County Boys playing.
At nine o'clock started Czech band called Mordors Gang. The band performed their own songs which were presented in the Czech language. Their style was neo/psychobilly- and hard swing stuff. The band enjoys a huge popularity among the local rockabillies and they have also published several of albums. When I asked what those songs were told the answer was that the band makes clever lyrics which includes much more than cars, women and the consumption of alcohol. Because I didn't understand Czech language at all I had a bit of an empty feeling. However, bands playing was superb, and there was nothing wrong and local rockabillies liked the band very much.
Headliner was Restless
Party's headliner was the Restless from UK, which the local rockabillies were waiting like a hungry dogs for food. The band started a little after 10 PM. At first, Mark Harman greeted the audience and said that they have played rockabilly 35 years and this is their first gig ever in the Czech Republic. So this was not useless trip to me, because I got to be involved in witnessing something unprecedented. Restless set consisted of their early-career production, just as this year's Finnish gigs, so nothing new was not available. Their show was also included all the same old tricks like a doublebass changes a' la Harman Bros. Unfortunately, it was not possible to stay at 11PM because I was forced to leave at a quarter before that I catch to the last train to Prague. The train was a quite popular transport vehicle night-time travellers to the Prague because a reasonable number of rockabillies stepped aboard to the train.
DJ Gargoil was responsible for the DJ activity at the party and he was playing a quite large scale of music, like from old rhythm & blues all the way through original rockabilly and neobilly etc.
Good feelings without security staff
The party started already at 3PM and ended at 11PM. The party was accompanied by a lot of families with their children and dogs. There were also curious "no rockabilly people" attending to party. I would estimate that in the party were around 500 people during the day.
In fact, the atmosphere was quite warm, friendly and relaxed. Although the drinks were available in a cheap price, anything like pass outs, fights or behaving like a pigs were not seen. People at the party were acted appropriately. One thing which was sticked on my mind was that there were no security staff at the party. I don't know if this is a common practice in the Czech Republic. Local police visited once during the evening at the party.
Before the Restless show, among all the ticket buyers were held the raffle. There were available different kind of product prizes like sweaters and liquor bottles. I had no lucky the raffle, so I had to buy souvenirs then from somewhere else. People were friendly, nice and open. I chatted even more with couple of guys and asked about rockabilly scene in common in the Czech Republic. English was difficult for some, even younger people, but things got sorted out on both sides. Also Google Translator was used in discussions. My previous studies in German didn't go completely to waste at all, because instead of English the older people knew German better. I didn't see any record sales at a party. The only exception was Restless booth, which were for sale bands shirts, and CD's.
Problem is a little scene
When I was talking in party with local people it became clear that the local rocka-/psychobilly scene is a quite small. Guess was that a bunch of people in the rockabily field is probably about a thousand people, which is quite small when the Czech Republic has a population of 10,5 million. There were couple of major parties organized during the summer time. In August will be held Rockabilly Rumble CZ and in July Mighty Sounds Festival, which music are mainly ska, punk and psychobilly. Over the past years, these events have occurred following bands like Mad Sin, Klingonz, Meteors, Tin Cans, Cherry Casino, DAG, Graveyard Johnnys, Blue Cats, King Kurt, the Batmobile and the Restless. The bands are heavily focused on Psychobilly and Neobilly. This style also represents the largest part of the local gang.
In addition to CZ Rumble local clubs are organized variable. Sometimes there are parties every month and sometimes nothing happens for months. Some of the local gang is participating parties abroad, among other things in Spain.
With talking about local people also became apparent that, for example, Rockabilly CZ Rumble can not take any prominent performers or bands from abroad because of an economic reasons. For this reason, bands are booked from the party at a reasonably close, such as the UK or Germany. Another thing is that the organizers can not afford to pay big gig fees. Even now, a ticket was relatively costly for locals, while the average salary in the Czech Republic is about 1000 euros a month.
Roughly speaking and using by wrestling terms, if Finland is a rockabilly heavyweight class, then the Czechs will be followed by a light middleweight class.
Prague was the bonus of the Rumble
Prague offers many attractions in architecture and other culture lovers of old buildings and museums. For Finnish Prague's price level is affordable and there are available good food and good beer. Finnish beer tasted after a trip like a muddy water. Suitably, there were nice summer weather with heatwave which meant that the Slavic female beauty could not be overlooked.
Public transport worked well and if you gonna stay near the center it's easy to go all of the place's by foot. In my opinion the city is safe, beacuse I didn't see any troubles, pickpockets etc., although I walked alone from the train station to the hotel on Saturday night. When using taxis should be careful, because many taxi drivers may cheat especially tourists. If possible price of the taxi trip is good to agree in advance with the driver.
If you are planning a weekend trip to Prague, it is worth to combine the local rockabilly events if the schedule will allow it and there are available local rockabilly parties.
Travel expenses were roughly 350 euros (flights 200€ and hotel 150€). Flights are possible to get even more preferably when booking them early enough. The hotel prices can also pinch costs down when not staying quite near the center area. For me, a three-day trip to Prague was a nice experience, which was affected by, among other things, a relaxed and nice atmosphere, good drinks and food, meeting new people and music provided by the local bands. A certain thing is I will return to the city back at the party someday.
Text: Janne Vaittinen
Foto: Jan Hrdý